What is NEXT Level?
NEXT Level is a way for Norman NEXT alums and other individuals ages 41 and up to invest in and actively support Norman NEXT's mission of collaborating, connecting, and leading toward a brighter future.
Norman's premier young professionals organization invites you to become the first generation of NEXT Level advocate!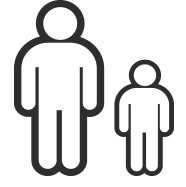 How much does it cost to get involved, and what's in it for me?
You can become a NEXT Level advocate with a $150 annual investment in Norman NEXT.
NEXT Level includes:
Invitation to attend exclusive, limited NEXT Level events
Entry to three Knowledge at Noon events per year to hear the latest in Norman current events and news
First priority for mentoring opportunities
Access to Norman NEXT membership directory
Monthly e-newsletters to stay up-to-date on NN news
Premier sponsorship opportunities
Norman NEXT leadership alums only: Select invitation to Ex-Officio roles to serve as a soundboard, visionary, and guide for the NN Board (Criteria: Only past Norman NEXT leaders are eligible for these roles; must have served as past Chair and/or Board member)
The time commitment is completely up to you! NEXT Level advocates are welcome to attend any eligible event, reach out to leadership any time for mentoring opportunities, and more. No official meeting time or attendance is required.
Why should I get involved in NEXT Level?
NEXT Level offers a way for those over the age of 40 to continue to provide support, connect with young professionals, and help shape the future of Norman. Norman NEXT has heard from many members of the community that they wish they could be a part of everything Norman NEXT is doing, so we found a way to make that happen!
Norman NEXT recognizes our current members will all eventually "age out" of the organization. We value the involvement, expertise, and connection from past members as well as individuals who may not have had the opportunity to be involved in Norman NEXT in the past.
There are limited opportunities outside of boards or commissions with heavy time commitments or expensive memberships. Norman NEXT created NEXT Level to further engage and involve Norman residents and stakeholders in moving our mission forward and to create space for our young professionals to meet others who share a vision for a more inclusive Norman.
Meet and get to know Norman NEXT members, recruit and retain young talent, learn how to get involved in making Norman the best it can be, and make new friends and lasting relationships along the way.
Do I have to have been a member of Norman NEXT to become a NEXT Level advocate?
Nope! We welcome anyone interested in actively furthering our mission.
At this time, invitations to the role(s) of Ex-Officio(s) will be limited to past Norman NEXT leadership (i.e., Only past Norman NEXT leaders are eligible for these roles; must have served as past Chair and/or Board member).
How do I get involved in NEXT Level?
Apply at normannext.com. A Norman NEXT staff or Board member will reach out to you about your application. Once accepted, you will begin receiving communications throughout the year. We look forward to welcoming you!